Holiday Apartment Features
Click here for the Introduction page to this Holiday Apartment / Vacation Property in Larnaca, Cyprus
Click here to Find out more about Cyprus
This apartment is packed with features including sleeping up to 4 people, being very spacious, fully airconditioned, e.t.c. See the full breakdown below.
Views
The apartment has a generously sized balcony from which you have the most wonderful mountain view as you look out across the village of Oroklini.
There are 4 patio chairs and a table on which you can enjoy an early breakfast and feel the warm Cypriot sunrise or have dinner on the balcony and relax with the tranquility of the majestic views.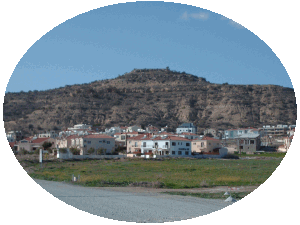 ---
Fully Equipped Gym and Sauna
Guests have access to a fully-equipped, secure access Gym with cycling, running, and weight/resistance machines as well as a plasma TV to watch while you work out, so if you feel the urge to do some exercise while you are on holiday, you don't have to look far.
There is also a sauna, locker space and toilet facilities available for use within the Gym area.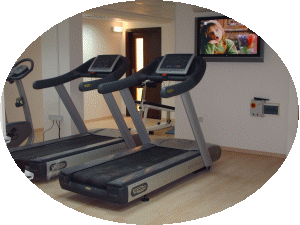 ---
Swimming Pool
Guests also have access to a large pool area complete with children's pool/jacuzzi, changing rooms/toilets and spectacular views of the open countryside, so after a hard days exercise in the gym and sweating it out in the sauna, you can relax in a refreshing pool.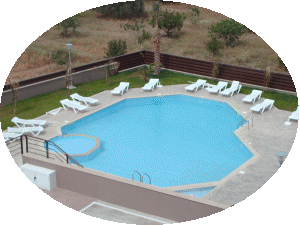 ---
Fully Equipped Kitchen
The apartment contains a fully fitted kitchen with cooker, extractor fan, hob, washing machine, fridge/freezer and microwave.
The following items are also available making for a comfortable self-catered vacation property:
Kettle
Toaster
Cooking Utensils
Plates and Cutlery
Glasses
Pots / Pans
Mop and Bucket
Clothes Airer/Dryer
and more...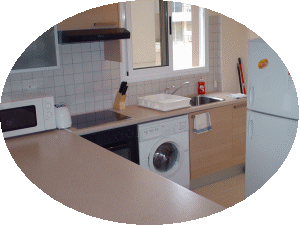 ---
Airconditioned Spacious Lounge/Dining Area
The apartment contains a roomy living area which has a sofabed, armchair, coffee table, television and dvd player.
There is also a sizeable dining area including dining table and 4 chairs
This living space is very bright and airy, and has sliding doors that open onto the balcony from where you can see the nearby mountains as well as part of the village of Oroklini.
This room is fully airconditioned.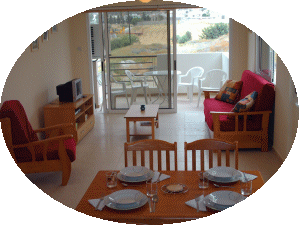 ---
Airconditioned Double Bedroom
There is a large bedroom in this apartment with a double bed and sidetables as well as built-in wardrobes.
Together with the sofabed, this apartment can sleep up to 4 people comfortably and is fully airconditioned throughout.
Clean linen provided to guests.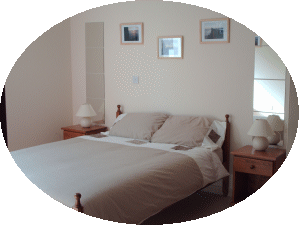 ---
Bathroom
The apartment boasts a spacious bathroom with good sized bath and showerhead as well as a loo and sink.
It also contains built-in cupboard space in dark cherry wood as well as lots of surface space around the sink and a good sized mirror.
Clean towels provided to guests.
---